At Whitefield we seek to honor God in all we do. We challenge our students to become servant leaders, to be honest and trustworthy, and to love and respect others. The Scriptures are integrated into all subjects a student will learn at Whitefield. Our students deepen their understanding of the Scriptures in our daily Bible class.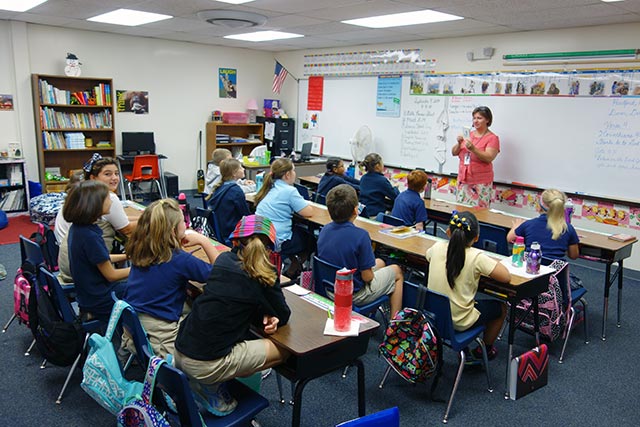 Elementary Classrooms
K-5 classrooms are self-contained with one main teacher
We have three sections of each grade level
Class sizes are no more than twenty students
Kindergarten & 1st Grade
The main emphasis is learning to read
Instruction in Bible, math, science, social studies, writing, and Spanish
Special areas instruction in computer, music, art, PE, library, and Spanish
Grades 2-5
Balanced program of reading, writing, grammar, math, science, history, Bible, and Spanish.
One weekly session of PE, computer, art, Spanish and music instruction
Grades 3-5 can also participate in the Elementary Chorus program
4th and 5th grades the students can join orchestra and band
4th and 5th grade students can participate in our extracurricular Robotics program
From the K-8 Principal
It is my goal to know each and every student and to partner with their parents and teachers in their education. Our teachers are fully certified and love their students. We strive to provide an education that is academically excellent and spiritually vital.
We look forward to your visit.
Mrs. Renee Adkisson
K-8 Principal